What do the Lionesses represent for women and girls?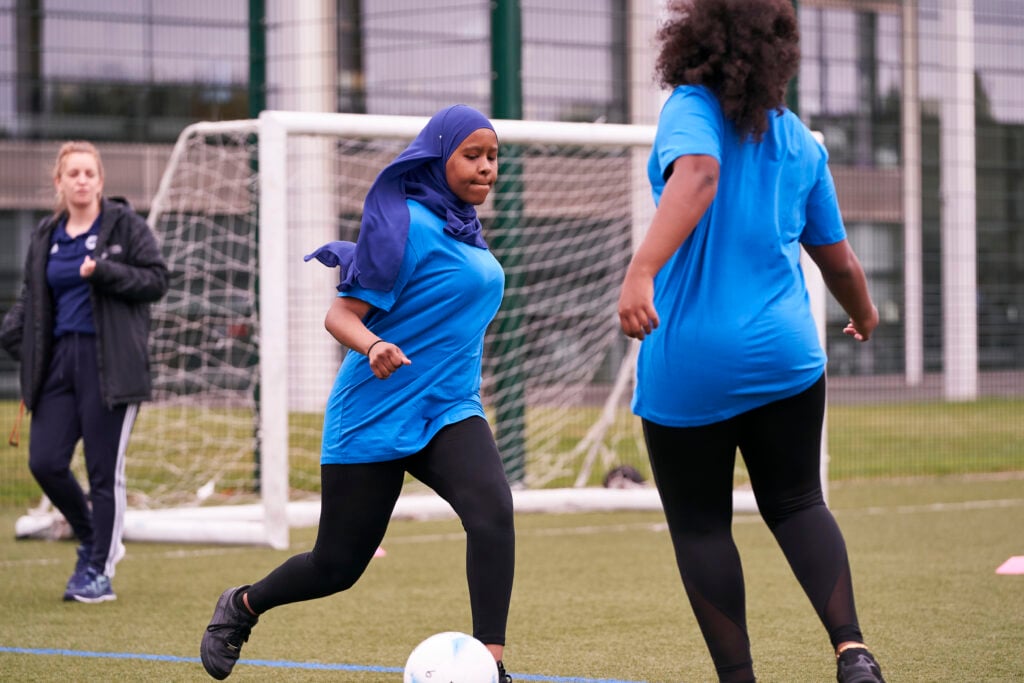 Chloe Schneider – Digital Communications Officer
At StreetGames, our mission is to transform the lives of young people living in low-income, underserved communities through sport and physical activity, regardless of their age, gender, or ethnicity. Although football has traditionally been male-dominated, there's reason for hope as more women and girls engage in the sport. The rise of the triumphant Lionesses, reigning European champions, signifies a significant shift in society and a possible trigger for breaking down gender stereotypes in sports.
Team sports such as football are invaluable in boosting confidence, building resilience, fostering a community, and improving health and fitness. By being visible and vocal advocates for women's involvement in sports, the Lionesses have ignited a spark that has spread across the nation. A few years ago, the number of girls playing football was considerably lower. Today, we have seen a remarkable shift, with over 100,000 more girls participating in the sport than five years ago. The Lionesses' presence has proven that football is not just for boys—it is a sport for everyone to enjoy and excel in.
Last year more than 365 million people watched the UEFA Women's Euro Football Championships. Since then, the world of women's football has been steadily growing, and this year, the Lionesses are back, inspiring girls and women across the UK. However, their journey to success has been challenging. Women were banned from playing on association members' pitches from 1921 until 1970 because the Football Association considered it unsuitable. It was an era of entrenched gender inequality, where women's abilities in sports were undermined and their aspirations limited. Yet 50 years later, the Lionesses have shattered these stereotypes and paved the way for the future of women in sports.
Watching successful athletes, such as the Lionesses, can greatly empower young people from underserved communities and inspire them to get involved in sports. Our Inspiration campaign provides opportunities for the next generation to watch major sporting events live, which motivates young people to participate in sports, whether engaging actively in PE lessons or attending a Doorstep Sport session in their community.
At StreetGames, we recognise the importance of having positive role models, such as the Lionesses, and their impact on boosting young people's confidence and encouraging them to access sports activities in their local area. Yet it is also important to note the factors that play a crucial role in making sport accessible to women and girls: the cost of the kit, lack of period products, low self-esteem, and transport expenses to safe local areas. We must address all factors in encouraging girls to access team sports whilst recognising the importance of inspirational role models and media representation. Our Us Girls programme has been developed with these factors in mind and has successfully identified practical and cultural barriers that dissuade girls from getting involved in sport. We must think creatively and resourcefully to truly understand and tackle the obstacles girls face and listen to them to get the activity offers right.
The Lionesses have shown women that football is not just for boys and that girls can participate, whether on a professional team or a kickabout in their local park. For many, the Lionesses represent societal change, empowerment, and hope. As we celebrate their achievements, let us also recognise that work is still required; StreetGames' research has unveiled a notable contrast in engagement levels, with 56% of surveyed males aged 11-24 years participating in football at least once a month, compared to 23% of females. These figures highlight the gendered differences in engagement with sports such as football. We must continue to support and promote women's football, celebrating the diversity and unity it represents. Doing so can ensure that future generations of women and girls have even more opportunities to excel, breaking down barriers and forging new paths in sports and beyond. The Lionesses have shown us what is possible—let's carry their legacy forward together.