Chiles Webster Batson Commission on Sport and Low Income Neighbourhoods: how StreetGames are playing our part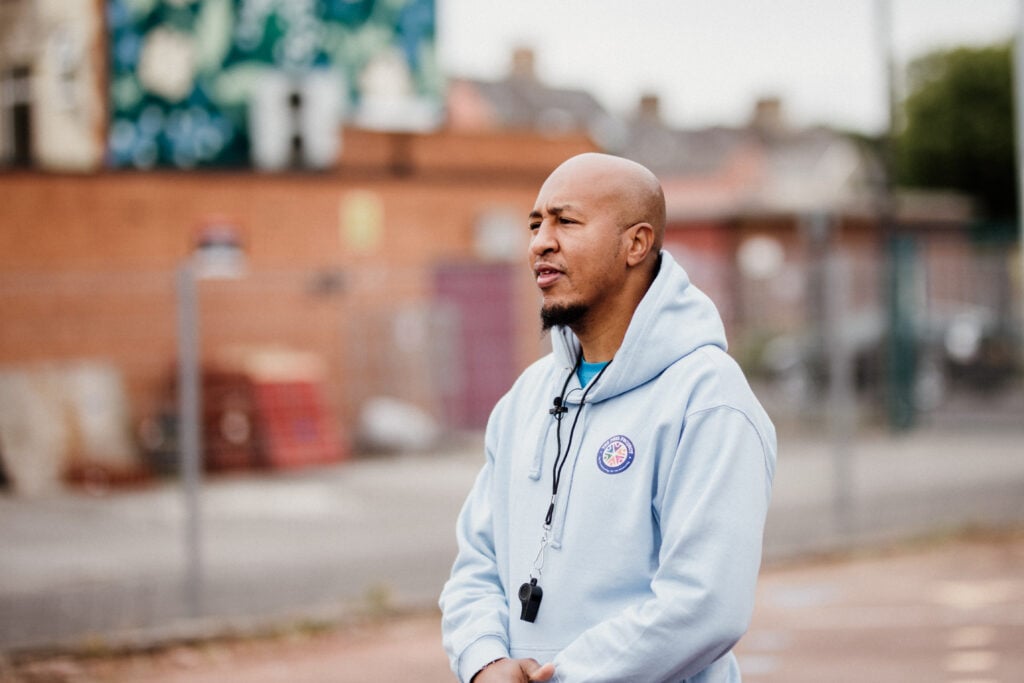 Written by Mark Lawrie, Chief Executive
As Britain's Cost of Living crisis continues to bite, underserved communities across the country are facing an uncertain future. For many families, rising costs are putting ever greater strain on household budgets and the impact on children and young people in these neighbourhoods cannot be overstated.
Sport and physical activity can be a welcome relief in anxious times, and a great way to help young people stay mentally and physically healthy. But in tough times, activities like these are one of the first things to go as families tighten their belts. Despite the proven benefits of sport, access remains limited for too many. We know that fairer access and more opportunities for young people in underserved neighbourhoods can make a huge difference to their wellbeing, but the vision of a truly accessible sporting offer remains unfulfilled.
Last week, I had the great pleasure of joining with partners and sport for development organisations from across the country in the House of Lords to celebrate the publication of the final report of the Chiles Webster Batson Commission on Sport and Low Income Neighbourhoods. The Commission report offers valuable insight and recommendations about how to move this vision of a truly accessible sporting offer forward.
First launched in 2020 by Adrian Chiles, Charlie Webster and Brendon Batson OBE, the Commission set out to explore the important role local community organisations have in providing community sport in low-income neighbourhoods: supporting young people and their communities to improve their life chances.
It was fantastic to see so many people and organisations coming together to celebrate a ground breaking report, and to hear from some passionate speakers about the value of sport to the lives of young people.
Combining hard academic evidence, and in-depth conversation with community organisations themselves, the Commission found that community sport has a demonstrable impact on tackling issues such as youth crime and anti-social behaviour, poor mental health, and lower levels of participation in youth volunteering. It calls on policy makers to do more to ensure that community sport is given greater recognition and support within the wider sporting landscape.
The final report makes for fascinating reading, and in particular, contains some incredibly useful insights about the impact that locally trusted organisations (LTOs) make in local communities, but its overarching message was simply and powerfully summed up by Adrian Chiles in his remarks on the night – every young person needs something to do, somewhere to go, and someone to trust. That's the role that so many organisations in the StreetGames network and beyond play day in, day out, in underserved communities across the country, giving young people the chance to enjoy sport and physical activity in a safe, trusted environment in the heart of their neighbourhoods.
While the Commission does an excellent job of shining a light on the difference LTOs are making to young lives, it is also up front about the challenges they face. Many of these organisations operate in a near-permanent state of financial precarity, living hand to mouth and stretching every pound as far as it will go. Too often, coaches and volunteers have to redirect their time towards lengthy grant-writing processes and fundraising activities instead of being able to focus on supporting the young people who rely upon them. Furthermore, the short-term nature of current funding models makes it incredibly difficult for many of these organisations to plan for the long-term.
Crucially, the Commission acknowledges the particular value that a place-based approach to sport and physical activity can bring to local communities. As the summative report puts it:
'To enable children and young people living in disadvantaged communities to take part in sport and physical activity how they would like, provision needs to be built around the needs and assets of individuals and neighbourhoods, using place-based and person-centred approaches. Locally trusted organisations (LTOs) are ideally placed to support this endeavour. They understand local places, have the reach into communities, are trusted by local people, and are connected into local networks.'
The report includes a number of key recommendations for policy makers, funders and practitioners to better support community sport, including working towards a funding model that provides long-term consistent funding for community sports organisations, and recognising these organisations as valuable community assets that can be trusted to deliver real change for young people in low-income neighbourhoods to help level up the UK.
At StreetGames, we're committed to playing our part to ensure that the Commission's recommendations are acted upon. In the wake of the Covid-19 pandemic and now in the teeth of a cost-of-living crisis, participation in sport needs to be poverty proofed to ensure that everyone gets the chance to feel the many positive benefits that sport can bring.
As the Commission report and its recommendations highlight, locally trusted organisations are the critical cog in ensuring that participation in life-enhancing sport is something that is available to all. StreetGames has been laser-focused on supporting LTOs for the last 15 years, and they will always be at the heart of what we do.
Our end game commits us to a vision where there is a year-round, multisport offer available in every low-income, underserved community, but we know we can't achieve that on our own. That's why the lessons of this Commission are so important – they can offer the beginnings of a roadmap for mainstream sports providers who want to change their practice to better meet the needs of young people from low income, underserved communities.
To ensure young people in underserved communities can have the same access to sport and its many benefits as their better off peers has always been at the heart of StreetGames' mission. I know that we are joined in that mission by many phenomenal partner organisations who share our passion and commitment. The Chiles Webster Batson Commission will, I hope, prove a valuable asset for the whole of not just the Sport for Development sector but the wider sport sector, equipping all of us with a robust, evidence-led review that proves beyond doubt that when it comes to levelling up underserved neighbourhoods, community sport can and must have a part to play.
Explore more of the Commission's findings with this sketchnote: