Regional Winners: Engaging Women and Girls Award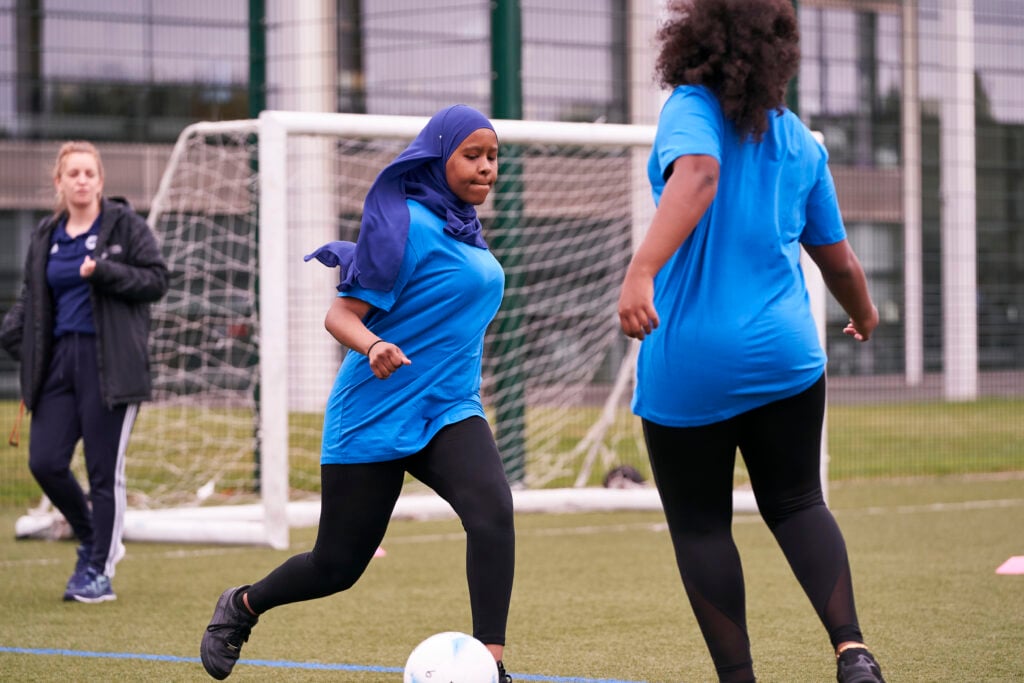 Written by: Chloe Schneider
In a world where women and girls are continually challenging boundaries and breaking stereotypes, the StreetGames Awards have recognised those driving change and empowerment in their communities. The recent announcement of the regional winners in the category of Engaging Women and Girls has shed light on the remarkable journeys and initiatives that have had a lasting impact. From London and the Southeast to the heart of Wales and the Midlands, these trailblazers have ignited a transformative wave in sports and beyond.
Let's take a moment to celebrate these exceptional individuals and groups whose unwavering dedication and passion have uplifted the lives of women and girls across various communities:
London and Southeast:
Sadie Whiteland: From Thai Boxing Champion to a leader in traditional boxing, Sadie Whiteland's coaching endeavours with England Boxing and volunteer work with Boxing Clever have instigated a significant shift in gender dynamics within the sport. Her mentorship has not only inspired young women but has also showcased the profound transformative power of sports, both inside and outside the ring. Through her passionate endeavours, Sadie has demonstrated true grit and determination, setting an inspiring example for young women interested in the sport of boxing. Her journey and dedication have empowered young women to follow her lead and shifted the gender dynamics in Boxing Clever's gym, evident in the growing ratio of girls to boys.
Muneerah Balesaria: As an influential figure in Salaam Peace, Muneerah's journey from participant to volunteer has been inspiring. Her establishment of the Girls u13s football team and the Sunday morning Girls-only study support and sports programmes have shattered stereotypes and served as a powerful symbol of empowerment for girls from all walks of life.
North West:
G.I.R.L.S. Project: This impactful initiative has been a guiding light for vulnerable young women, addressing critical issues such as unhealthy relationships and mental health challenges. The remarkable achievements of the G.I.R.L.S. project, including conquering physical challenges and fostering collaborative efforts, stand as a testament to the determination and resilience of its participants. This pilot project has worked with a particularly vulnerable and complex group, with young women who would regularly run away, go missing, are at risk of self-harming, have poor mental health, are vulnerable to exploitation, and many have been involved in social care system. The project has stabilised behaviours of the young women, and reduced missing episodes, anti-social behaviour, and self-harm. Trusted relationships have been built with youth workers, and this has been instrumental in their progress and self-belief. They have learned to make better choices for themselves and find more positive alternative solutions to their problems.
Midlands:
Tasmin Turner: A true advocate for Doorstep Sport, Tasmin's contributions to Get in to It Lichfield and the Us Girls project have made a profound impact on female participation and representation within sports. Her dedication and leadership have not only empowered women and girls but have also paved the way for a more inclusive sporting landscape.
North Wales:
Aura: The Aura Leisure and Libraries Us Girls project in collaboration with Youth Cymru, Flintshire inclusion services, schools, and the Youth and Disability Wellbeing programme. The project provides a secure space for girls to socialise and engage in physical activities. 20 young girls have attended the sessions over a 20 week period all have had the chance to use the Aura Gym facilities, take part in dodgeball, rounders, basketball, netball and fighting chance boxing.
South Wales:
Wye Gymnastics & Galaxy Cheerleading: Wye Galaxy played a crucial role in reviving the Fantastic Gymnastics club at Butetown Pavilion during the pandemic, ensuring a safe and inclusive space for girls from diverse backgrounds. The revived club saw increased participation, expanded offerings, and the establishment of programmes like Fit & Fed and the Young Leadership Academy, empowering local women and fostering community engagement. They have had over 150 girls from a variety of backgrounds attend, and they have  increased the offering to include a preschool session for 3-4-year-olds, as well as a Mother & Baby Play session. It is truly remarkable to see first-hand so many people from a range of ethnic backgrounds coming together to enjoy getting fit and active in a safe and female-only environment.
The stories of these incredible individuals and groups serve as an inspiration to us all, highlighting the transformative power of sports and community engagement. As we continue to push boundaries and challenge norms, let us remember the profound impact that a supportive and inclusive environment can have on the lives of women and girls everywhere.