Regional Winners: Outstanding Work in Community Safety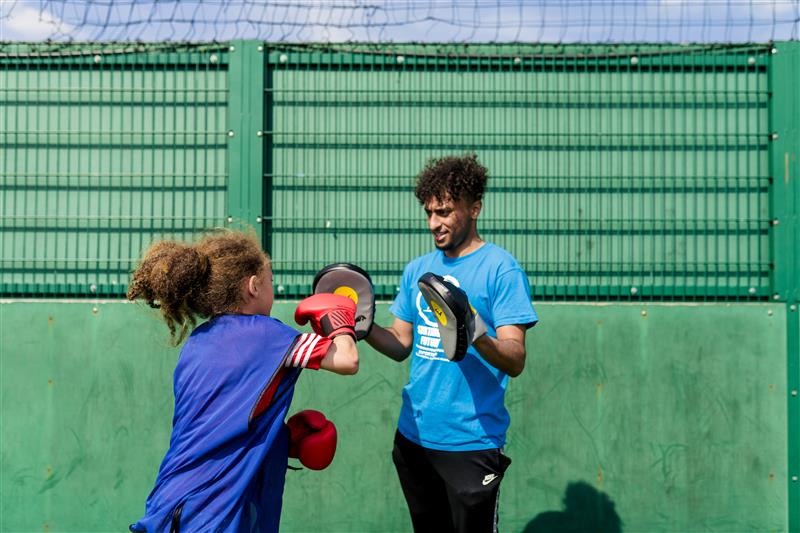 Written by: Chloe Schneider
The StreetGames Awards have recently recognised outstanding contributions to community safety, celebrating organisations and individuals who have gone above and beyond to create safer and more inclusive spaces within their localities. These regional winners have exemplified a profound commitment to fostering community well-being and resilience. Let's delve into their impactful initiatives:
London and Southeast:
Sports Fun 4 All: Since July 2021, Sports Fun 4 All has provided free football coaching at Bellingham Leisure Centre, SE6, in collaboration with local authorities and the Lewisham Council Youth Offending Services. The sessions aim to support vulnerable young people aged 15-19 at risk of involvement in crime, anti-social behaviour, and serious violence through participation in football.
North East:
Young Asian Voices: Established in 1996, Young Asian Voices, a multicultural organisation in Sunderland, has empowered over 500 individuals through various programs, including free transportation and youth committees. They aim to provide social and educational activities to support people to address present inequalities in Sunderland. They offer a support mechanism to all individuals to help identify and resolve issues through diverse work programmes. They also work closely with partners such as Police, Councillors and agencies like Groundwork Northeast and Wearside Women in Need. They have tried to help change how young people think and feel about themselves and their lives by providing better opportunities for them to show what they're capable of achieving, with the proper support and encouragement, to build their personal, social, and emotional skills so they become more effective individuals. They won a runner-up award in the multimedia category in Show Racism the Red Card Annual School Competition.
North West:
Livewire's "Back on Track" Project: Livewire utilises physical activity as a tool for positive change, focusing on empowering young people between 11-18 years old who face challenges in their home life or education. Through mentoring and group sessions, the project promotes healthier lifestyle choices, improved behaviour, enhanced self-esteem, and stronger relationships with parents, teachers, and peers. The aim was for the project to be as holistic as possible. In addition to understanding the power of sport and physical activity, there are also additional elements that are incorporated into the project, including volunteering opportunities, personal development activities, training and qualification opportunities, and signposting to other services.
Midlands:
Martin Manley – Walsall FC Foundation: Over the past ten years, Martin Manley from Walsall FC Foundation has made significant contributions, notably through establishing the KICKS inclusion project and spearheading the Walsall Violence Prevention & Sport Programme. Martin formed a partnership with a local youth and community organisation called Youth Connect, which had been working in the heart of the local area for several years and had developed considerable trust with local young people by delivering detached, outreach and centre-based youth work. Through this partnership, youth workers worked alongside Walsall FC coaches to deliver doorstep sports sessions for young people in the local area. In 2021 and 2022, the Walsall Foundation successfully received further funding from StreetGames via the local VRU contract, which led to the development of the Walsall Violence Prevention & Sport Programme in 2022-23. The programme led to a nearly 100% increase in weekly doorstep sports sessions across the Local Authority, going from just 15 to 29, and a 250% increase in intentionally designed targeted secondary work from 4 to 14 weekly sessions. 
South Wales:
Milford Youth Matters' Active Leaders' Project: The project has created a non-formal learning environment, nurturing participants' self-efficacy and community engagement. The initiative empowered them to develop crucial skills and establish strong connections within the community, encouraging active participation in community-building efforts. The young people's increased efficacy level has boosted confidence in their roles within Milford Youth Matters and the wider community. Their transformed perspective on challenges as conquerable tasks has led to deeper engagement in activities and a more substantial commitment to community interests and safety. Through active participation in the project, they have taken ownership of elevating the positive image of youth in the community, fostering improved social interactions and a sense of responsibility. This experience has facilitated their transition from dependence to independence, strengthening their relationships with the broader community and benefitting themselves and their peers.
These regional winners have set an inspiring example of the transformative impact that collective efforts and dedication can have on community safety and well-being. Their initiatives reflect a deep-rooted commitment to fostering a safer and more inclusive society for all.