A bright future ahead for Mario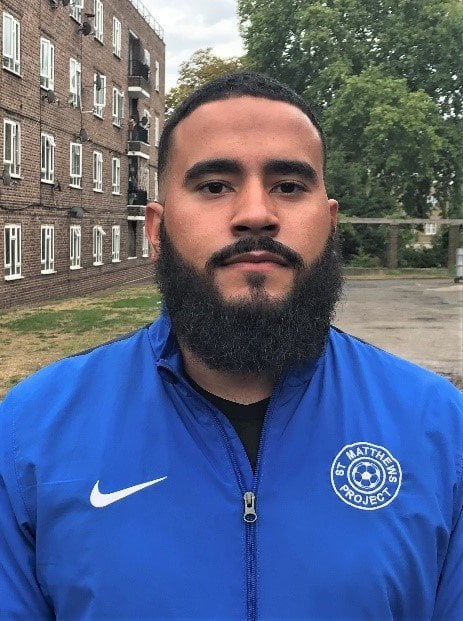 StreetGames apprentice Mario is happy living in the moment and seizing every opportunity that comes his way.
Mario first came in into contact with StreetGames as a participant of a Doorstep Sport sessions at St Matthews Project in Brixton. Despite only being a teenager at the time, it was here that Mario fell in love with community sport which influenced his decision to in pursue it as a career.
After taking part in the sports sessions for a number of years, Mario progressed to be youth volunteer coach at St Matthews. It is at this point that StreetGames first started to support his development, giving him the opportunity to attend a variety of StreetGames Training Academy activators and classroom-based workshops. St Matthews Project then received some funding from StreetGames to put Mario through some accredited qualifications so he could become a Doorstep Sport Coach – this really helped Mario to develop new skills and to build the confidence and competence to work with at-risk young people in his community.
James Gregory, StreetGames Area Director for London, tells us 'We could tell that Mario was motivated and dedicated to the young people he works with, and that he took his role as Doorstep Sport Coach very seriously. He knew that he was in both a privileged and important position with the young people as he wasn't a teacher or a parent, therefore they had a different kind of respect for him. Because of his dedication to the role, I invited Mario to be part of our Coach Mate programme so we can spend some time together away from the formal workshops.'
In March 2019 Mario signed up to the StreetGames Apprenticeship Programme. Alongside the Coach Mate programme and peer support, the apprenticeship scheme has helped Mario to grow in confidence, knowledge and skills, empowering him to take the lead in becoming a real positive role model, not just in football and in coaching, but also in life. Lee Dema, St Matthews Project Director, tells us 'The apprenticeship has really added to Mario's all round development in sport. Despite having a few personal difficulties to overcome during the training, Mario has stuck to the task and is reaping the rewards. James and the team have been outstanding in supporting him.'
Over the last 12 months Mario has gained additional accredited coaching qualifications as well as soft skill accreditation for things like Youth Mental Health First Aid, Emergency First Aid, Managing Challenging Behaviour and Engaging Women & Girls. Mario reflects on the journey he's been on, 'I stopped looking into the future too much, because of the pressure it put on me before. Right now, I'm just happy living in the moment, I'm happy that St. Matthew's and StreetGames have given me this opportunity.'
Discover more case studies