Sophie's squash coaching journey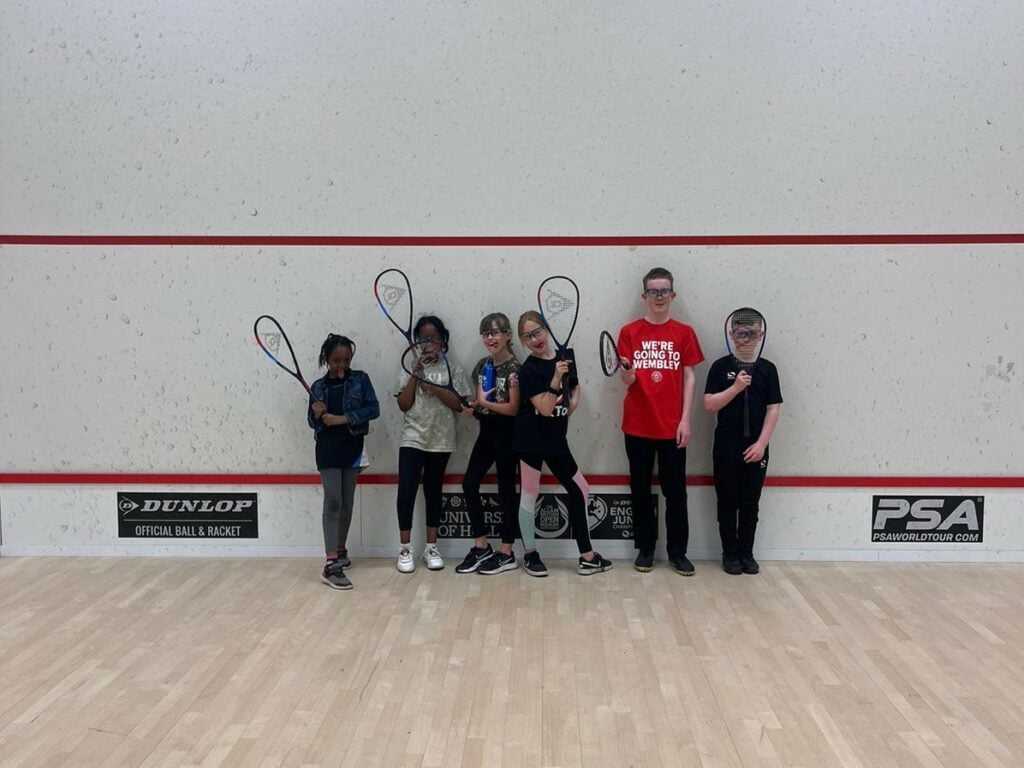 Since September 2022, the University of Hull have been running a weekly after-school squash junior programme, thanks to funding from Sport England's Together Fund. The university had previously delivered in-school squash sessions, but hadn't been able to offer a follow-on pathway for young people to continue playing the sport outside of school. The funding has made this possible, supporting young people to continue developing their skills as well as opening squash up to a wider audience. The sessions have welcomed an average of eight to twelve young people each week, aged between 7 and 16 and from a wide range of socio-economic backgrounds.
One of the coaches at these sessions is Sophie Al-Mudallal, a PhD student at the University of Hull studying marine biology. Prior to starting at the university, Sophie knew little about squash and had never had the opportunity to play. After a friend introduced her to the sport, however, she found she really enjoyed it, finding it to be a "great outlet for stress" and going on to join the university squash club.
After being approached last summer by the team delivering the in-school squash sessions, Sophie started to get involved in coaching the sport for young people; first volunteering as part of school sessions, and then at the weekly Together Fund sessions, where she now acts as lead coach. For Sophie, this experience has been an eye-opener: "I didn't really realise how much I loved coaching! I enjoy seeing the young people getting involved in something they haven't done before, and it's really gratifying to me to be able to support them to start their journey through squash. I also really like that I'm a person they can use for support if they need – with the range of young people we have attending, as well as being focused on squash, it's really important to be there for them however they need."
As part of her coaching journey, Sophie has participated in several workshops led by the StreetGames Training Academy, including our Multi Skills Activator. She credits this experience with supporting her to develop her coaching style and ensure that the sessions are as inclusive and engaging as possible for young people: "I try not to just focus purely on squash and games and technique, because I don't want it to be too serious. Doing the course has helped me to get some ideas for little activities and fun games that introduce the kids to sport and loosen everyone up a bit. Having not done a huge amount of coaching before, that was really helpful for me."
Sophie has now completed her England Squash Level 1 – Participation Coach Award, and has been rewarded for her dedication to the sport by being shortlisted for a national volunteer award at the England Squash awards. Matty Craven, Sports Development Coordinator at the University of Hull, who nominated Sophie for the award, had confidence in her ability to excel at coaching from the beginning: "I sort of guided her in the right direction because I knew she could do it! Where she's come in such a short space of time, to doing the work that she's doing now, it's absolutely fantastic."
As far as next steps go, Sophie is keen to find a job in her field of study once she has completed her PhD – but also plans to keep squash and sport in her life: "It's nice to have something different and a bit of variety in my life! It's great to have this experience under my belt and to be able to move forward in coaching if I want."
Discover more case studies