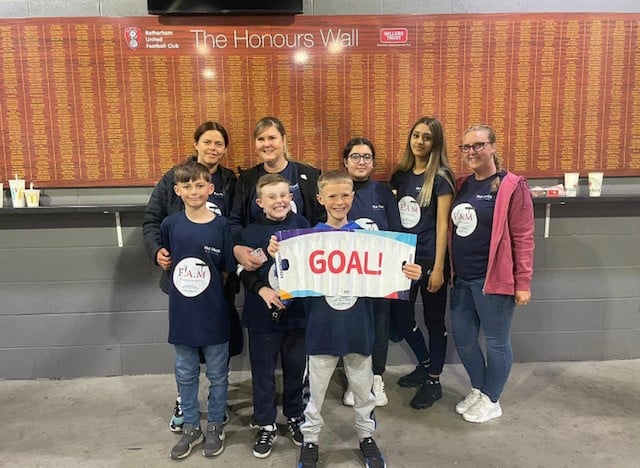 2022 saw the return of the UEFA Women's EURO to England, with 31 matches played in eight host cities across the country. The tournament smashed the record for attendance figures for a Women's EURO, with a record crowd of 87,192 spectators witnessing England's triumph over Germany in the final at Wembley Stadium.
Thanks to an opportunity through tournament sponsors, we were delighted to be able to distribute more than 1000 match tickets to our network – giving young people and families in underserved communities an incredible chance to experience the excitement first-hand.
StreetGames Locally Trusted Organisation Hat-Trick arranged for a group of mums and their children to attend the quarter final between France and the Netherlands at Rotherham's New York Stadium.
Here's what they had to say about the experience…
How are you involved with Hat-Trick?
MA: I used to be a participant at Hat-Trick sessions at school and in my community. I was a sports leaders volunteer for 6 months with them, and took the opportunity to stay on and volunteer. I am now an assistant coach and continue to volunteer at sessions.
KW: Through F.A.M., the Felling Active Mams group, which was set up from my child attending a football session for children on the estate.
LJ: Through taking part in a fitness session at Felling community centre.
How did you first become interested in football?
KW: I wasn't interested in football at the start, but started to learn through Hat-Trick's Active through Football session.
MA: I played at primary school and joined a girls' team there.
LJ: I watched football with the family whilst growing up, I love watching games and have been to watch the women's team at St James' Park.
What did you most enjoy about the experience of going to the match?
LJ: It was a really good experience, including the travelling down together to the stadium, and the atmosphere was incredible.
MA: Getting to watch a EURO match as I haven't before, and getting to know the Gateshead group.
LJ: It was the experience of a lifetime, spending time with my boy doing this.
What inspiration will you take from this experience?
MA: It inspired me to work harder at my football team and more determined to do my best at football.
LJ: Being able to do these types of trips as a community, making new relationships with the girls from Gateshead and Newcastle, and being able to attend new events as a team.
AM: I would like to play more football and I will be volunteering in the summer holidays.
LJ: To get more active and take part in more activities and being able to socialise with others.
KW: To be involved in more sport opportunities as I'm new at all this. Football is not that bad after all!
Download our infographic to read more about the impact of our EURO 2022 work.
Discover more Case studies