HAF Support and Training Programme
StreetGames has been working with local authorities and community partners to successfully deliver activities that combat holiday hunger, inactivity and social isolation since it launched its Fit and Fed campaign in 2017. Our team have successfully been part of many HAF programmes since 2018 co-ordinating on behalf of local authorities, providing personalised support and delivering training to enable high-quality holiday programmes with food to be delivered.
StreetGames are as committed as ever to working collaboratively with local authorities to ensure that the HAF 2023 programme has the greatest possible impact for children, young people and families.
StreetGames champions a sustainable mix of holiday provision based in the heart of local communities – community groups, schools, and other local organisations (e.g. leisure providers, arts organisations, environmental organisations). In the lead up to the Summer 2021 HAF programmes, StreetGames worked with 13 local authorities from across the country to plan and deliver a needs-led programme of training to support the expanding holiday provision workforce.
To continue to support local authorities to deliver a wholly effective HAF provision, StreetGames are pleased to present our 2022 HAF training offer and support programme, building on the learning from previous holidays and taking into consideration the different activity environments that HAF programmes are delivered in. This offer can equip your HAF workforce with the skills, knowledge and competencies to deliver a holistic and bespoke programme.
Leeds Community Foundation has been delighted to work with StreetGames. Our partnership has built the capacity and creativity of our local providers to deliver effective programmes, and helped them to inspire young people and their families to engage in active lifestyles.
Martin Dean – Leeds Community Foundation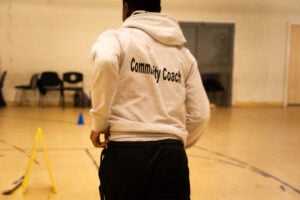 Our work with Local Authorities